Where: Gordy's Bakery & Coffeehouse, 441 Encinitas Blvd, Encinitas, CA 92024 Open: Monday-Friday 6 a.m. to 5 p.m., Saturday 6 a.m. to 4 p.m., Sunday 7 a.m. to 1 p.m. $3.25 Tasting Notes: Caramel, hot What I'm listening to: Continue on NPR Radio
I take the left side of Interstate 5 onto Encinitas Boulevard. Under the main road, on the right, there is a mall that I didn't notice. You always see blue condos with white trim and Oggi's Pizza and Brewing Co. from the highway. I might not have believed it if I hadn't seen it for myself, but there is a whole world beyond the exit.
Gordy's Bakery and Coffeehouse is nestled between a nail salon and an alkaline water center in a wood-clad mall — akin to a cruise ship far from its regularly scheduled maintenance list.
Gordy's stands out from the neighborhood businesses with its fire engine red tables and chairs and neon "espresso" sign that greets visitors at the door. If this sleepy commercial space is an aging parent, Gordy's is a bold, wild child who has grown up but can't give up his punk rock clothes.Gordy's Bakery and Coffeehouse in Encinitas. Photo by Ryan Woldt
Inside, heavy rock music (at a reasonable decibel) pumps through the speakers. The mustard and purple walls are covered with framed concert posters of old bands – Ace Frehley, The Hives, Pixies, Pet Benetar and The Black Eyed Peas.
The cafe is rock n' roll but with low prices on cakes and without the devil's horns.
I order a cup of black coffee. It's New Guinea organic from La Costa Coffee Roasting, a well-known coffee supplier with cafes in North County, including a coffee shop on the outskirts of Carlsbad.
Gordy's coffee was brewed and served hot enough for me to drink but not too hot for me to bite into the cake. I should have ordered The Plonk, which is Gordy's namesake pastry, but I'm running out. of the morning mental fog.
The Plonk is a thick-looking muffin filled with oats, raisins, brown sugar, bananas, butter, flour, dates, walnuts, water, sugar, eggs, salt, baking soda, cinnamon and ginger.* The Plonk, thick muffin , is one of the many high-priced pastries at Gordy's Bakery and Coffeehouse. Photo by Ryan Woldt
My cake is ready. In fact, cookies and coffee are good together. I dip and drink as I sit out front listening to the news of the day and watch the morning, weekday crowd filter in.
Four out of five customers enter or exit the yoga studio a few doors down. They almost always order iced coffee. At a nearby table, a salesperson examines other charts and graphs. The Chevy Suburban pulls up, and mom runs to pick me up early from summer camp.
Gordy's is the type of coffee shop that is loved by the locals, but it also depends on the locals to survive in a competitive market. I wonder how the customers who arrived this morning found the cafe for the first time.
In addition to drinks and Plonks, the bakery offers a wide variety of good-looking cakes, and I think they do a good business ordering.
According to one of the latest ads on the cafe's Facebook page (from January 2022), the cafe's namesake, Gordy, and his partner Ellen opened under new ownership. From the look of the website and the menu, nothing has changed. This is good for me because if I ever find myself in this corner of the world again, I'll be able to try The Plonk or Durfey or B-Bar or…
*Full disclosure: I copied this list from Gordy's website.
Watch "Up First" on NPR Radio:
The Bean Journal is a new feature from Ryan Woldt, host of Roast! West Coast coffee podcast, available at: TheCoastNews.com. Check out the sections on North County coffee shops, cafes and coffee roasters.
When did Gordy's Hi Hat open?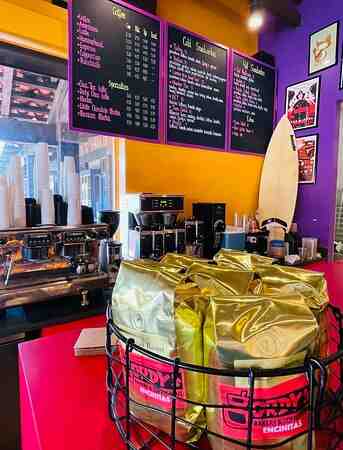 Gordy and Marilyn Lundquist opened Gordy's Hi-Hat in Cloquet in 1960, and the menu — fresh, hand-wrapped burgers, homemade onion rings, fresh, hand-dipped fish and handshake – it hasn't changed since. The restaurant has a cult following, and Minnesotans are still there on its opening day of the year.
Who has Gordy's Hi Hat? Gordy and Marilyn started their first business with an A&W root beer and burger joint in Eveleth in the early 1950s after a trip to California to visit the first McDonald's. They opened a burger joint on Duluth's London Road in 1955. "They were risk takers," said son Dan Lundquist, who owns Gordy's today.